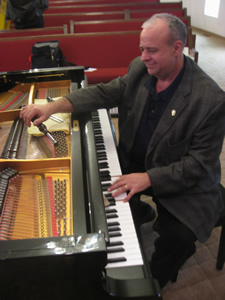 Davis Piano Service offers complete piano tuning and repair service in King County, including (but not limited to) Auburn, Bellevue, Bothell, Des Moines, Federal Way, Issaquah, Kent, Kirkland, Maple Valley, North Bend, Newcastle, Redmond, Renton, Sammamish, Seattle and Snoqualmie. We love pianos and want both accomplished pianists and earnest students to have pianos that are in tune and enjoyable to play.
In addition to piano tuning, we offer many types of piano service and reconditioning. For a sample list of basic repairs and services we offer, visit the Services page.
To schedule a piano service, ask a question, or for a free quote, contact Dave.
News Flash!! Our business has been growing! We have recently added a technician, Vada Dunford, to help service our clients in a timely manner. Vada brings her experience in tuning pianos all over Alaska, and she continues to service Southeast Alaska several times a year. She works with Davis Piano Service several days a week, including Saturdays, and assists Dave in the shop and with office duties.
NOTE: In 2008, Davis Piano Service acquired Best Piano Services. We are now one of the largest piano service companies in the greater Seattle-Tacoma area.
Bill and Nancy Mills, former owners of Best Piano Services, have re-located to Oceanside, CA to be closer to their children and grandchildren. We appreciate their contributions to the South King County music community for the past 20+ years, and wish them well in their new endeavors.